A state-of-the-art device model for disordered materials
1 / 4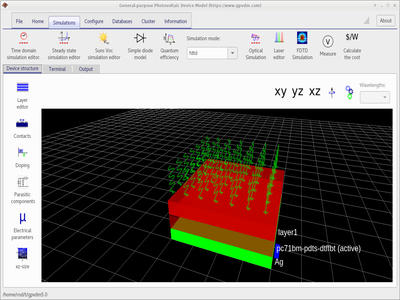 Organic Solar cell simulation
2 / 4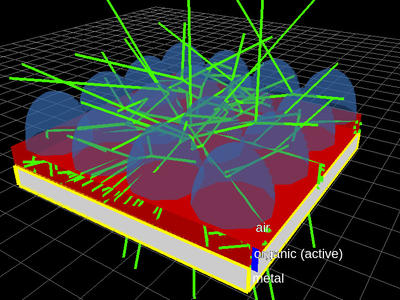 Microlens simulation
3 / 4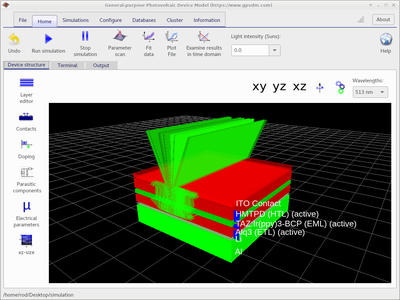 OLEDs simulation
4 / 4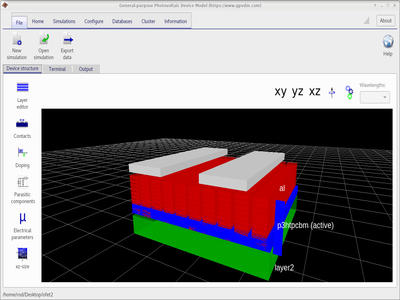 OFET simulation
❮
❯
Use the power of device simulation to understand your experimental data from thin film devices such as Organic Solar cells, OFET, OLEDs, Perovskite solar cells, and many more.
Unlike may other models Gpvdm is purpose built from the ground up for simulating thin film devices made from disordered materials. Specifically, Gpvdm does not assume all carriers are in equilibrium and instead describes trapped carriers using a non-equilibrium Shockley-Read-Hall formalism, this enables disordered materials to be accurately modeled in steady state, time and frequency domain. A detailed description of the physical model can be found here. The model has had over 25,000 downloads to-date with over 130 publications having used the model. Gpvdm can simulate:
Organic solar cells simulation - including drift diffusion/transfer matrix models
Organic Field Effect Transistors (OFETs) - utilizing a 2D drift difusion solver
Perovskite solar cell simulation - including mobile ion models
Organic LEDs (OLEDs) - including ray tracing model
Large area printed devices using effective circuit models
Optical (filters) and reflective coatings
Steady state and time domain simulations - voltage/light transients as well as fs lasers
Crystalline silicon solar solver
a-Si solar model
CIGS solar devices
Sophisticated charge trapping/de-trapping/recombination models needed for the simulation of thin film devices
Maxwell-Boltzmann or Fermi-Dirac statistics for free carriers.
The model can simulate many transient and steady state opto-electronic measurements including:
Dark/Light JV curves
Charge extraction by linearly increasing voltage (CELIV) transients
Dark/Light photo-CELIV transients
Transient Photo Current (TPC)
Transient Photo Voltage (TPV)
Impedance Spectroscopy (IS)
Intensity Modulated Photocurrent Spectroscopy (IMPS)
Voltage transients of an arbitrary shape
Full optical model taking into account reflection at interfaces and absorption.
EQE calculation
Suns-Voc
Suns-Jsc
PL/EL
The model makes it easy to study the influence of material parameters such as mobility, energetic disorder, doping and recombination on device performance. All internal device parameters are easily accessible through the graphical interface .
Technical details
The model solves the device equations in steady state or time domain, in 1D or in 2D. Specifically, the model solves both electron and hole drift-diffusion, and carrier continuity equations in position space to describe the movement of charge within the device. The model also solves Poisson's equation to calculate the internal electrostatic potential. Recombination and carrier trapping are described within the model using a Shockley-Read-Hall (SRH) formalism, the distribution of trap sates can be arbitrarily defined. A fuller description of the model can be found in the here, in the associated publications and in the documentation. A historical source code archive can be found here. Physical models available are:
Highly optimized multi trap level SRH solver, where carrier populations are resolved in energy/position space as a function of time.
Effective circuit models for arbitrary circuits
Band to band recombination (Langevin)
Full optical model taking into account reflection at interfaces and absorption.
Arbitrarily definition of trap states, draw the DoS you want to simulate
Transfer matrix models
Voltage transients of an arbitrary shape
A 3D thermal solver
Interface dipole doping
Simulating a solar cell JV curve in the light and dark
Designing reflective coatings using Gpvdm
Simulating OLEDs.